Among the many myths and misconceptions about health and fitness, the one that surprises me the most is the myth that consistent and steady healthy lifestyle changes are best to optimize your health and fitness. Fitness folks and health professionals love this idea.
This sounds perfectly reasonable. However, in talking to hundreds of people about changing their fitness, this notion of slow, steady, gradual change means boring, insufferable, unrewarding and tedious! To some, it is daunting, painful, and even impossible. I see this in the eyes of the skinny guy who wants to put on 20 pounds of muscle, the obese person who needs to lose 60 pounds of fat, and the weekend warrior that wants to return to the court without blowing out her knee.
So let me reveal one key concept that should change your approach and mindset about healthy lifestyle changes. This should be well understood by those who are super-fit, as well as those far from it. Hopefully it serves more useful than the boorish "Everything in Moderation" utterance that everyone says but no one really understands.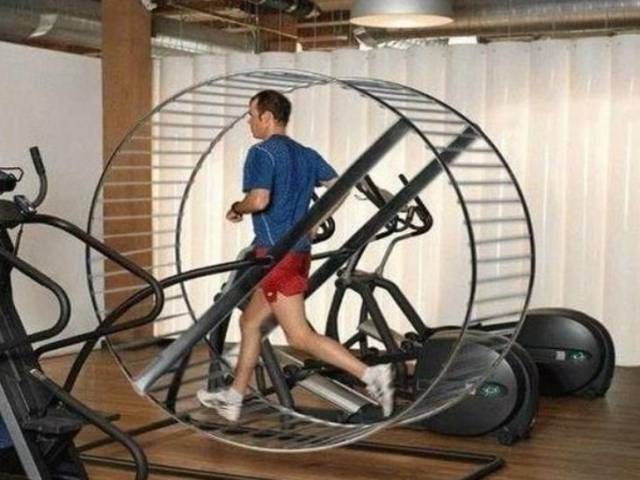 The concept of cycling (not involving a bike)
Cycling generally refers to regularly changing elements of a fitness or diet program according to some predetermined schedule. It is nothing new, but mostly underutilized and underappreciated outside of elite athletics. In fact, the idea of cycling is not only effective in fitness, it is common in areas of business, education, and nature.
Cycling with Diet
Diet cycling involves varying the amount of calories or types of calories (macro-nutrients) over a certain period of time, or cycle. This is best appreciated with a specific example:
In losing weight, it is well known that lowering calories is required. It is also known that lowering calories for a long term can be problematic: metabolic and hormonal changes, energy levels, mood, and compliance rates can all decrease. This is why dieting is such a struggle. But cycling can fix this. Allowing for pre-scheduled periods of increased calories can remove the negative consequences and risks of prolonged dieting. In addition to the proposed physiological benefits, it seems that the psychological benefits are huge as cycling can provide a welcomed break.
There are several ways to do this, like increasing calories in the moments after exercise (daily cycling), increasing calories on certain days of the week, increasing calories for only a few meals of the week, or even going several weeks on low calorie diets, followed by a couple weeks of eating higher calories.
Both psychologically and physiologically, it seems to make sense to vary our diet approach. Simply telling someone to eat less until they lose weight, then keep eating like that forever not only seems daunting, but it simply might not be ideal. Instead, most are able to wrap their heads around the idea of restricting intake for a several weeks, punctuated by a few breaks, knowing that they will have another extended break down the road. It breaks the process into chunks, which is a very well-known strategy for learning and productivity that is ingrained in educational systems and business operations as well.
Again, there are many ways to do this and the approach will differ depending on the individual. I go into this in depth in our Body Balance Challenge, and we have seen some amazing results with this approach.
Research on diet cycling
There are a handful of studies on the effectiveness on diet cycling in humans. Let's take a look at some of them briefly:
Varady et al. Short-term modified alternate-day fasting: a novel dietary strategy for weight loss and cardio protection in obese adults —. 90 (5): 1138 — American Journal of Clinical Nutrition
Participants were put on a diet in which they were instructed to eat and exercise as they normally do for one day, then eat at reduce calories to 25% of their baseline needs, or about 1200 calories for the next day. They alternated eating this way for 12 weeks. Compliance was high (89%), and weight loss and improvements in cardiovascular profiles improved. A few other studies found similar results to this;
Halberg, N et al Effect of intermittent fasting and refeeding on insulin action in healthy men. J Appl Physiol 2005;99:2128
Heilbronn LK, et al. . Alternate-day fasting in non-obese subjects: effects on body weight, body composition, and energy metabolism. Am J Clin Nutr 2005;81:69–73.
Johnson JB, et al Alternate day calorie restriction improves clinical findings and reduces markers of oxidative stress and inflammation in overweight adults with moderate asthma. Free Radic Biol Med2007;42:665–74.
This is the study actually compared low calorie diets versus calorie cycling:
K V Williams, et al.  The effect of short periods of caloric restriction on weight loss and glycemic control in type 2 diabetes. Diabetes Care, Jan '98
One group ate 1200-1500 calories. The other group did the same, but went to 800 calories for 5 days every 5 weeks. The calorie cycling group achieved significantly more weight loss, and reduced A1C levels to normal compared to the control.
More research is needed, but there are some promising indicators that cycling is more effective. If we rely on experience and the fundamentals of physiology, we can also see merits to this approach.
Cycling Your Workouts
Fitting that I write about this today, as it kicks of my 7th and final week of my current workout cycle: my recovery week. Essentially, this week I do little more than warm-ups and stretching as I'm scheduled not to exercise strenuously. I'm looking forward to having a few more hours of free time this week. I feel great, because after 6 hard weeks of training, I've earned it. I'm on schedule to break some personal records next week when I return to the gym and well on my way to hitting my goal weight. It is a great feeling.
Workout cycling usually occurs over weeks to months, with mini cycles in between. Fitness experts commonly refer to exercise cycling as periodization. There are many forms and variations of periodization, with books devoted to this topic along. For the purposes of this post, it is simply best to appreciate that cycling your workouts between working on different goals or planned periods of training and resting is vital. Research is very clear on the benefits of cycling your workouts. Let me provide an example of using workout cycling in a common scenario – You are trying to lose fat, but are very out of shape and have multiple joint problems. Here's how to apply cycling:
Cycle 1: Learning, assess, and correct: Simply put, the only focus here is on learning proper movement technique, and identify and correct mobility/motor skill impairments. The focus is not on how many calories are burned, because 1. These people aren't in shape enough to work hard enough to burn many calories, 2. The joints aren't ready to handle the stress, 3. They don't know how to perform the exercises well enough to balance risk reward of significant calorie burning exercise.
Cycle 2: Intensify: now, the focus is maintaining proper technique while increasing intensity – approaching and reaching a significant calorie burn level.
Cycle 3: Learn: intensity comes down again, as we learn new movements that build upon new abilities. This opens the door to more diverse exercise options, increasing effectiveness, compliance and interest. This phase is shorter than the first learning phase. This also allows for some extra recovery.
Cycle 4: intensify with the new program
This process essentially repeats, but can be far more variable and complex, depending on someone's needs.
Final comments on diet and exercise cycling
Cycling your diet and exercise is more effective, and more fun – or at least tolerable. It might appear more complex, but it is really quite simple. The complex part is knowing what is right for you, and setting up the plan. That is certainly our expertise at Spectrum. The results and the logic of the plan make it easier to follow.
The lack of reward perceived from this notion of "perpetual long term lifestyle change" is usually why some refer to themselves as "unmotivated". A huge part of increasing motivation is to achieve multiple victories. Telling someone to make changes or peruse training with no reprieve in sight can backfire in many ways. Instead of amassing victories, they experience defeat.  For too many in the fitness game, victories are sparse. Cycling gives you multiple victories.
Cycling workouts and diet needs to follow a logical plan, not haphazard. Muscle confusion, training chaos, or tricking the body concepts are bogus concepts, and often have negative consequences. Hang out in the PT clinic for a week with me and you'll see why.
Cycling needs to be individualized. If you are on a very low calorie diet while performing metabolic circuits, long distance runs, and intervals most days of the week, you will crash and burn.
Lifestyle habits take time. Some of us need to give up our morning latte and make our workouts more consistent. Others, need to completely overhaul sleep and diet habits, while starting to exercise. From professional athletes to the sedentary, we all function better when cycling our training and diet.
Knowing when to push and when to coast might be the best way for you to optimize your health.
After 6 weeks of pushing, I'm looking forward to enjoying "the coast" for a week.
Let us know if you need help with cycling your diet and fitness routine.